This full-day event has been months in the making. Since December, the organizers have defined and refined an agenda that will deliver unequaled value to a carefully-curated group of ~150 Canadian data centre experts. We have secured the enthusiastic support of many of Canada's top CTOs, the academic community and a group of sponsors that spans all aspects of the data centre equipment and services industry.
We're now ready to accept delegate registrations for the event. If you are a professional responsible for data centre strategy, architecture or operations (corporate facilities, cloud/colo/hosting facilities, specialized facility operators), we want to be on your agenda for the 14th!
Here's some more information on the event.
WHY attend?
GCDCS18 is establishing several 'firsts' in Canada. It is the first Canadian event that focuses entirely on data centre transformation (rather than enterprise IT more generally – a fine topic, but not the one we're exploring).
The first-ever coming together of researchers and industry practitioners is an even more important GCDCS18 milestone. This collaboration is where the 'leading edge' is defined; it is where questions of 'what does the future hold?' will be explored by the professionals who have the clearest insight into what the answers might be, and what they mean to data centre strategy.
HOW will I benefit?
How will attendees benefit from GCDCS? The 'short list' would include:
Gain the perspective needed to understand 'what's next?' Develop the insight that you need to align your strategies and decision-making with a rapidly-evolving industry – the knowledge that allows you to see change as opportunity.
Professional recognition as a thought leader: GCDCS will assemble Canada's DC thought leaders, and will issue a post-event report that reflects your input and status. This is the best DC peer group in Canada, but it needs you to be complete!
Research and presentations: gain valuable and actionable advice via in-event presentations, breakouts and panel discussions featuring the deepest roster of leading academics, industry professionals and analysts, and through access to a rich post-event research library.
Networking: make the contacts that you need to build your strategy and career through the transformative years ahead!
WHO will be there?
We are extremely thankful for the support we've received rom the Canadian DC thought leader community. Confirmed panelists/moderators for the event include: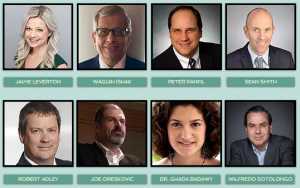 We would also like to gratefully acknowledge the sponsors of GCDCS18: Vertiv, IBM, Lenovo, Eaton, Schneider Electric, Cogeco Peer 1, HPE, Morrison Hershfield, Park Place Technologies, Carnot Refrigeration, Cisco, ESI Technologies, EllisDon, Rittal, AFCOM, Cushman & Wakefield, CINNOS and the City of Hamilton.
WHAT will be happening?
The GCDCS18 agenda kicks off with an all-star plenary panel comprised of leading CTOs, CEOs, academics and DC experts who will set the tone for the day's discussion of issues and trends in data centre transformation. We will then work through four 'deep dive' panel discussions. Morning sessions will include Technology Disruptors in Data Centre Power (led by Peter Panfil of Vertiv) and The Hybrid Imperative: Architecture and Provisioning for a Multi-Environment World. After a networking lunch in the stunning McMaster Innovation Park Atrium, the agenda resumes with a session on Designing for the future: aligning data centre facilities with hyper-trends (led by IBM's Bernie Oegema). The event will then switch formats to a "Fireside chat…on cooling!" (featuring Maxim Chauvette of Carnot Refrigeration) and then progress to a final panel session on Computing at the edge, led by Lenovo's Wilfredo Sotolongo.
Through the course of the event, delegates will be able to interact with peers, attend engineering breakouts (including sessions on DCIM and cooling), tour the CIRC facility and
meet with McMaster graduate students to discuss their advanced DC research. The day will wrap with a roundtable brainstorming session, at which delegates will engage in small-group discussions on best practices and best metrics associated with one of six core topics, developing focus areas for next year's session. We will then adjourn to a reception in the airy courtyard adjacent to the facility.
WHERE, WHEN – and HOW do I get involved?
The event will run from 8:00 am to 7:15 pm at McMaster Innovation Park in Hamilton. Parking is available on site, and there will be shuttle service to/from the local GO station.
Some passes to the show are available through the website's registration page. Most of these are reserved for buy-side delegates; we currently have a few Industry Supplier passes listed on the site, but many of these are likely to shift  to Knowledge sponsors as we are virtually sold out of all other sponsorship levels. Members of presenting partner AFCOM are eligible for discounted passes, and our sponsors also have a limited number of passes to distribute. Please contact us at inviteme@dcforesight.ca for more information.
Hope to see you at GCDCS18 – the 'first annual' Best DC Show in Canada Ever!