Cloud adoption is an exercise in adaptation; as individuals have come to think with a keyboard beneath their fingertips to advance communications, cloud users must align their data, systems and processes with the requirements of cloud platforms, while acclimatizing to new financial models born out of cloud providers' techniques for optimizing IT delivery at scale. For born in the cloud businesses built on state of the art in cloud technology, adaptation is a moot point. But many other businesses, which may in fact recognize the advantages that cloud can offer, continue to wrestle with current mechanisms for tech and finance change. With a customer-first approach, providers can tackle this onboarding issue; however, a more typical response is to require users – on occasion with the help of third-party support – to learn platform APIs/rewrite legacy apps, and to buy from pre-set units of compute power based on metering that suits provider economics. But CenturyLink is looking to transform this adaptation equation, with a new cloud offering that combines state of the art technology with delivery choice to simplify onboard and the consumption of cloud services.
Another step in CenturyLink's strategy to build out a comprehensive managed services portfolio, the new offering is CenturyLink DCC-Foundation (Dedicated Cloud Compute- Foundation), a next gen extension of the company's existing private cloud services, which has been built on VMware's Cloud Foundation technology and HPE's high-performance ProLiant servers. But how exactly does the new solution address real customer business problems? Four important solution attributes that align with current customer needs are described below.
Next gen tools and infrastructure
CenturyLink's existing hosted private cloud offering is based on traditional design methodologies, with separate groups for compute, storage, networking, and security. But DCC-Foundation features a hyperconverged infrastructure environment, where IT components, including software defined networking, security, storage and compute are integrated throughout the stack. Storage is provided on local drives as SSDs installed into each node, and security is delivered through integrated firewalls and  microsegmentation features. According to Steve Nolen, senior product manager, CenturyLink Technology Solutions, the pre-existing solution "is not wrong. There are a lot of needs and use cases that are appropriate for this; however, the new offering represents an evolution of the cloud product. It's where the industry is going – to converged models for virtualization." In CenturyLink marketing, DCC-Foundation is described as "an updated architecture moving to a converged, software-defined data center model" that can help businesses "overcome challenges of lengthy provisioning, configuration errors and costly processes by automating labor-intensive tasks and operationalizing the promise of private cloud on-demand."
In addition to the enhanced performance that convergence and automation can support, DCC-Foundation also enables new levels of productivity through self-service. The front-end interface that clients see is vCloud Director, VMware's cloud management tool for monitoring and managing VM provisioning, security, billing and self-service. vCloud Director offers a familiar environment that many customers use to ensure control and governance of information assets. As part of its service, CenturyLink also provides vCloud Availability (vCAV), a self-service migration tool that ties the customer's local vCenter to the vCenter on DCC-Foundation.
VMware validation
Given VMware's broad market penetration, CenturyLink's decision to build on the company's platform makes good sense. For the customer, this translates to familiar tools, as well as assurance that infrastructure resources are up to date and up to high performance standards. CenturyLink currently has Cloud Foundation v. 2.2 deployed, but expects to migrate to version 2.4 version, which is scheduled for release shortly: with this upgrade, they will move to vSphere 6.5 capability, adding some enhancements to SDN, and to the vSan 6.6 umbrella, such as native data-at-rest encryption: "it will fill in some of the gaps," Nolen explained, "and help us to keep current with technologies that matter."
As a VMware customer, CenturyLink buys multiple Cloud Foundation licenses that form the basis of the new offering that is branded CenturyLink "powered by VMware," but the two companies engaged in joint engineering to create a solution that is fully approved and certified. As Nolen explained, VMware offers an enterprise path to deployment of Cloud Foundation that is more prescriptive and a service provider path that is more flexible. Exercising the service provider option, CenturyLink has made some adjustments to the standard Cloud Foundation program. For example, the solution team has replaced the requirement for two 10 gig NICs for interfacing per node, per physical server, with a preferred design that delivers four 10 gig NICs ports in order to separate the customers' storage traffic from data and vMotion traffic. CenturyLink believes this unique design serves as a key market differentiator; however, infrastructure decisions are subject to approval, and was confirmed. For CenturyLink, this certification process is critical – as Nolen observed "customers want that validation" – to associating with the VMware brand. CenturyLink is now one of VMware's "showcase partners," one of their top five consumers with over 100,000 VMs under management globally, and the two companies will continue to build on an alliance program for cross selling that will generate more market steam, including new opportunities for VMware in the service provider space.
A range of managed service options align with varying levels of expertise
With DCC-Foundation, CenturyLink provides the physical infrastructure and VMware software – and then offers to manage this on behalf of clients. "We provide customers with the paint and the canvas, and allow them to paint whatever picture they want," Nolen explained. In addition to the vCloud Director interface, which gives customers access to vCenter, to NSX SDN as well as vison, CenturyLink will build out customers' firewalls, servers, networking, templates and catalogues to fill out the environment. Nolen believes that customers could manage this base level service on their own, but added that it did take the team a couple of months of engineering to finalize and certify the design and to build out the solution – time that "do-it-yourselfers" no longer have to devote to infrastructure build.
For customers that lack time or expertise, CenturyLink has moved up the stack, layering a range of managed services based on 14 years of experience with VMware technology on top of the base service to address individual resource needs.  Nolen explained: "If you are an NSX expert and you don't need help with that, it's yours. You can have as many services as you want," including the creation of firewalls, service balancing or even onboarding, available through a teaching tool that supports first time deployment. CenturyLink also maintains a managed services organization staffed with "TSEs" (Technical Support Engineers) who provide architecting, capacity planning services and who act as trusted advisors, providing managed services that stretch up to the operating system and to cloud applications. Nolen pointed to CenturyLink's Cloud Application Manager product, a multi-cloud management solution that can be layered in to enable customers to manage workloads (operating systems and applications) in AWS, Azure, Google from the single interface DDC-Foundation. CenturyLink services include a monitoring tool for the OS and applications that generates notifications and works with customers to try and resolve issues – an example of how the company is filling in value add services gaps that appear in many public cloud platforms, and supporting customers who must address the IT complexity associated with managing multiple clouds. Cloud agnostic, CenturyLink now operates as a certified reseller of AWS (with certified 100 technicians), Google and Azure, in addition to supporting internal clouds that are delivered globally out of 32 data centres.
Predictable – and low – pricing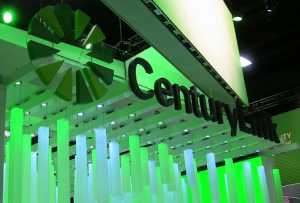 Describing DCC-Foundation pricing, Nolen noted: "It's not a consumption based model; it's an all you can eat buffet." Customers pay per node, or dedicated physical server with software based on a certain minimum use. A customer may deploy 40 VMs or 100 VMs on pre-defined resources that are always available, but the price does not vary. Unlike the pay-as-you-use pricing that is featured in many public cloud offerings, CenturyLink's financial model offers customers predictable costs that can be budgeted for. While consumption cloud may offer cost advantages, particularly for the larger organization that has more budget flexibility, clear understanding of monthly costs is a preferred alternative for SMBs with resource constraints or for organizations such as government or NGOs who need to work within defined budgets.
CenturyLink has also worked with cost modeling and finances to reduce rates, and has managed to deliver DCC-Foundation at a cost that is 20 percent less the existing private cloud offering. Nolen explained this cloud sleight of hand as a function of lower costs for software-defined firewalls, server balancers, or VPNs and as a product of perpetual licensing arrangements the company has worked out with its partner. CenturyLink takes the cost of VMware licensing and spreads this over five years (potentially infinitely) – but may sign up a customer for a year, basing this customer's fee on the five-year license. When the customer leaves, the license reverts back into the pool for reuse, lowering overall prices for consumers. Via this service provider relationship with VMware, CenturyLink is able to deliver a flexible private cloud service at a list price that the company believes will help it remain competitive in an increasingly commoditized IaaS marketplace.