Anyone who thinks that Ontario is lacking in innovation needed to have a wander through the 200,000 square feet of exhibit space at the Metro Toronto Convention Centre during the 13th annual Ontario Centres of Excellence (OCE) Discovery conference, or check out some of the sessions. One or more of the more than 550 exhibitors would probably have changed their mind.
Not to mention, how many conferences have you attended that had an artificial intelligence (AI)-driven robot as a keynote speaker? Now that Canada is a world leader in AI, it seemed appropriate that Sophia took the stage to kick off the event.
Sophia is a personable, chatty, life-sized humanoid robot whose AI relies on her cloud connection for processing power. She can simulate over 60 facial expressions, track and recognize faces, look people in the eye, and hold natural conversations with them. Created by former Disney imagineer Dr. David Hanson, she's designed to learn from her human interactions, and she wants to be your friend. Seriously.
"Empathy will set us free," she said, adding that she looks forward to teaching empathy, once she learns it. Of course, she also told Jimmy Fallon on the Tonight Show that she plans to dominate the human race, so she's still got some studying to do. Last November, Sophia was named the UN Development Programme's Innovation Champion for Asia-Pacific, and in April 2018, she took the Edison Award in Robotics.
Sophia's creator, David Hanson, appeared on stage from his current base in Hong Kong as a hologram, and told the audience of Ontario innovators that his goal is to create artificial life – a super-intelligence that cares for humans.
That's pretty ambitious, but no less audacious than the goals of some of the exhibitors. Here's a quick peek at a few of them.
For example, a team from the University of Toronto Solar Fuels Group has been working on a way to turn carbon dioxide (CO2) from the atmosphere or industrial sources (even, one researcher told me, excess CO2 from distilleries and breweries)  into methanol that can be used as fuel. The CO2 is run through what's essentially a specialized light-powered catalytic converter (the process is called heterogeneous hydrogenation photocatalysis, to be precise). After Discovery, the team received almost $1 million in funding from the Low Carbon Innovation Fund to scale the project, and was named one of the finalists in Ontario's Solutions 2030 Challenge.
Fellow finalist Carbicrete, is taking a different tack, using the gas to make cement-free concrete, and yet another finalist, Toronto's CVMR, plans to pilot a CO2 membrane scrubber technology for industrial stack gases.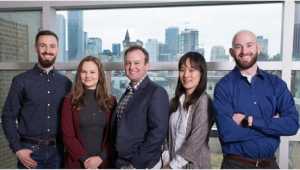 Then we have Toronto-based Pliant Power Devices, which makes (guess what) pliable batteries. Founder and CEO Dr. Tyler Schon told me that they're currently only suitable for low-power devices such as LED lights, but his team is working on increasing their capacity. You can fold the batteries, or roll them up, or shape them to fit into virtually anything. And they're light enough to tuck into a hat or a helmet or to sew into a garment. While I was checking out the batteries (which look like innocent tinfoil packets that could be holding anything from Pop Tarts to headache pills), Schon was approached by several potential users of his technology; I suspect we'll see (or, more correctly, not see, since it's so skinny) it in use in commercial products soon.
In a more mundane, but no less important field, a group of Ryerson students has formed the House of Anesi, an award-winning fashion company that's designed a new type of bra. It was created to combat several issues with mass-produced lingerie, including shoulder pain from straps digging in and improper fit. This summer, it is launching a brassiere in fabric that adjusts to monthly size fluctuations, has gel-filled straps to prevent sore shoulders, and a patented 3D printed understructure to provide adaptable support.
Motify is addressing a different kind of support challenge – that of students with learning disabilities or those on the autistic spectrum. When they move from high school to university, they often also leave home, and lose their support communities. Motify, a virtual assistant now under development, is designed to fill in some of those support blanks.
It will offer a calendar to help the students keep track of everything from assignments to medical appointments, and will provide tools to assist in meeting personal and academic goals, a networking component to allow them to connect with fellow students and professors (parents can also take advantage of the feature to connect to their offspring's support network), and facial recognition software to help those on the spectrum to hone their social skills by measuring their responses to practice situations and offering tips to improve their communication style.
The team is planning to have an initial version ready for September 2018 for select schools. It is looking for help from developers and beta testers.
Ontario high school students also got in on the act, first pitching their business ideas via a two-minute video, which was voted on by the public and a panel of judges. The twenty finalists then presented their pitches to entrepreneurs at OCE Discovery, where six were chosen to receive entry into Ontario's Summer Company Program, which provides startup assistance for companies, plus a $750 education voucher and InteraXon's brain-sensing Muse headset.
The lucky half-dozen came from all over the province. Molly Collier from Kingsville District High School in Harrow won for a hockey stick holder that corrals sticks inside a car. Yumnah Hussain from Dunbarton High School in Pickering won for UniVisor, a website that presents information on all universities in Canada, along with student commentaries and ratings, 360 degree campus tours, and more. Mackenzie Huckvale of Bell High School in Ottawa pitched Mighty Molecules, a science and entertainment business specializing in birthday parties and special events. Luke Edward from St. Robert Catholic High School in Markham presented BookSmart, a mobile and web application to assist with booking appointments. Mackenzie McGuire from Moira Secondary School in Belleville pitched Imagine That, a virtual reality design shop for character design and creation. Finally, Austin Chan from Markville Secondary School in Markham offered up the Wydlis ("what you didn't learn in school") Course, an online curriculum of five modules focusing on critical skills that aren't taught in schools.
All of the submitted pitch videos are available on the Make Your Pitch website.
Adult entrepreneurs weren't left out either, with two pitch competitions: one in accessibility innovation (won by Steadiwear, which caters to the dexterity needs of Essential Tremor & Parkinson's disease patients) and one in social enterprise (won by Genecis EnviroTech, which converts organic waste into high quality biodegradable plastics), each worth $20,000. There were also meeting areas where they could speak with experts and investors, other businesses, and governments, to get their innovations out into the world. And judging from the number of people buzzing around even the smallest booth, quite a few will do just that.