On the flip side of the tech world's bleeding edge lie early, and early majority adopters who have the resources in place to capitalize on invention. Blessed with foreknowledge of a technology's strengths and weaknesses based on the experiences of the innovators, this group is able to entertain less risk to reap the same solution rewards. An apt illustration of the principles that animate the Beal and Bohlen technology adoption life cycle can be found in the dynamics of the Canadian cloud marketplace: often described in market research as several years behind more advanced markets like the US in terms of momentum, the Canadian market is now poised for broadening of the adoption curve as organizations can now leverage the experience of providers and adopters alike who have already completed the cloud journey. In Canada, this adoption framework is best applied with perspective on unique local conditions. While Canadian businesses may have demonstrated some hesitation over cloud migration, this can be attributed in large part to the relative scarcity of in-country cloud resources. However, with last year's race to establish Canadian cloud services by key global providers, many of the cloud barriers associated with data residency and security requirements are lifting.
According to VMware Canada's Peter Near, cloud momentum in Canada is being driven by a conjuncture of two important forces: "One of the things that is exciting to me about cloud in Canada is that public cloud is becoming a reality on Canadian soil at a time when our customers have a very robust set of capabilities to get there. That's a benefit to Canadian business – we now have more capability and less risk in front of us than some of the earlier adopter countries that went to the cloud first and that's a unique advantage for Canadian businesses…  Now that the public cloud companies are investing on Canadian soil, Canadian enterprises are also making significant investments to get themselves to the public cloud. And they now have tremendous capability because the market has matured."
But if Canadian businesses are poised to push the needle on cloud, what does the goal post look like? According to Near, for most VMware customers, the current objective is hybrid cloud – the use of public resources to extend what the organization may be doing on-premise. As a path to the modernization of IT service delivery, the hybrid approach has much to offer. As the figure below, developed by the TCBC working group on optimizing hybrid cloud, shows, hybrid offers the adopting organization potential to leverage on-premise resources, to access multiple cloud platforms, and to onboard new technologies and new approaches to delivering tech infrastructure.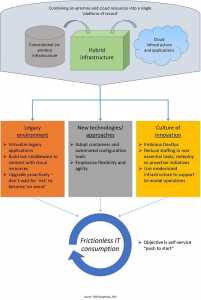 If the advantages of the hybrid approach are clear, achieving the "frictionless IT consumption" future continues to present challenges. In modernization, gaps typically appear in an organization's ability to transform legacy environments so that they can support new agile technologies and innovation processes; in a cloud context, the key issue is migration to on demand computing that will deliver the business agility organizations need to remain competitive. But how do businesses prepare themselves to migrate some of their on-premise workloads to a future state that is off-premise, public cloud?
According to Near, to achieve this business level agility goal through cloud, organizations must first look at the reality of their existing data centre assets. Today, he argued, many data centres in Canada run a very well defined virtual compute platform with the help of vSphere, which is connected to traditional storage and traditional networking. Many also run cloud management platforms that can be used to help manage existing infrastructure. However, most public clouds today are built for net new application development. "If you are building a new application, a cloud native application that uses a lot of cloud native concepts and APIs, having that born in the cloud is a good thing, and generally these are well designed for cloud," he noted. But at an application level, the reality for most organizations is a preponderance of traditional applications that require the robustness of the built-in storage and networking that exists in legacy environments. "There's a gap between the reality of the applications that enterprises are running in their data centres today and their ability to get more of the enterprise into the cloud," Near explained.
From the VMware perspective, this is a gap that continues to exist between the reality of cloud infrastructure and the reality of enterprise data centre infrastructure, which the company works to bridge through its leadership in virtualization. Near explained that while traditional storage provides some interesting and useful capabilities to support those applications, "you can't simply pick up that box and physically be able to move that into the cloud. We can help customers by virtualizing that and putting all the logic that is expected from storage into software. Similarly, on the networking side, you can't take that physical hardware – all of the capabilities that the application is expecting of the network, such as load balancing, firewalling – and simply move it to the cloud. But we can virtualize that network logic, so that everything the application needs to run is available within software."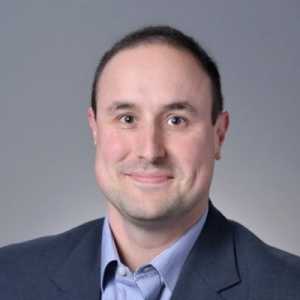 Other solutions that bridge the hybrid cloud divide typically involve re-platforming, a process that changes a workload that is running in one environment so that it can run in a destination cloud. According to Near, re-platforming can appear to be as simple as testing to ensure that an application runs in a different infrastructure environment: "If you change some of the fundamental networking concepts behind the app, will it still run? If you change some of the storage features that are available, is it still going to run? If you change the operating system, is it still going to run?" But determining these questions to the point of zero risk can become a massive undertaking when testing is done for all the applications that are mission critical today: "Ensuring that the risk is managed in this exercise is very significant," he added. In some instances, if the cloud environment doesn't recognize concepts that the traditional application may have been built on, a re-write may be required to ensure the application is able to run. In the case of custom built applications in particular, Near noted, which tend to be business critical applications, a re-write may be needed, or a development team will have to be brought in to look at moving to a cloud native application. The result is increased risk, increased cost for testing or even development around migration, lost productivity and, ultimately, lost time to value which was the key object of cloud migration in the first place.
Different in kind, the VMware approach involves deployment of Cloud Foundation as the customer's on-premise infrastructure and the use of the same software stack in the public cloud so that the exact same platform is running in both environments. Implementation may be "greenfield" – where a net new private cloud which readily connects into the public cloud is built with software that provides the virtual storage, virtual network and virtual compute altogether, and deployed very quickly with hyperconverged systems from partners such as Dell EMC (VxRack System). Or it may be "brownfield" – where different components of the customer's infrastructure are modernized as they come up for review in refresh cycles. Other triggers for Cloud Foundation deployment may be a new requirement for more modern storage or networking capabilities, or the need for more advanced security provided through VMware's virtual networking platform NSX.
This platform alignment means that applications will run seamlessly in either – or both – environments, without a significant investment in rewriting or re-platforming the applications. According to Near, modernizing on-premise infrastructure with Cloud Foundation will support the development of private clouds, but also offer customers more public cloud options. Currently, VMware has partnerships with several public providers, including AWS, IBM's BlueMix and OVH, which host the VMware Cloud Foundation stack, and offers additional Cross Cloud capabilities through other providers, including Google and Microsoft Azure. By reproducing the same platform on-premise and in the public cloud, VMware de-risks the environment and provides very rapid migration to public cloud. Near believes additional public cloud providers will "come on board in future" as mirroring the environments offers the easiest choice for customers to move from a private cloud to a hybrid cloud model.
For the customer, multiple cloud options can address changing infrastructure demand, but also remote office needs. "When you have the same software running in three locations – private cloud, public cloud and remote office – it really simplifies how you put together an IT strategy that works wherever you might need to do business, regardless of the company's physical footprint," Near observed. "You won't need to have multiple different approaches, different teams and clouds that you may need to rewrite applications for," resulting in better collaboration across geographical locations and/or business units.
Ultimately, VMware's vision is to deliver a level of abstraction that provides the same kind of choice in cloud adoption that the company has provided for servers. "Just as you can move applications from server to server and you can acquire the server equipment that is the best fit for you at the time, while ensuring that your server providers are competing against each other for feature, price and value, VMware's vision is to do the same thing for cloud," Near explained. The goal is to simplify cloud migration, but also offer a solution that will position the customer to consider multiple cloud provider options going forward as their needs change. While certain cloud players may look to build specific value that would incent a customer to stay with a specific platform, Near argued that by providing a layer of abstraction, VMware delivers data and app portability that allows the company to support the flexibility in cloud that it has delivered to other aspects of the data centre. And in this way, VMware has created an important niche for itself in the burgeoning Canadian public cloud space.