As digitization takes hold across the range of industries, software companies are framing founding mythologies in the physical world. Industry watchers – and indeed the public at large – have long since internalized the garage/college dorm beginnings of iconic brands including Google, Apple, Microsoft, Dell, and Facebook. But today, the physical locus of software innovation is shifting, driven by increasing specialization in a technology market where ubiquitous app creation demands differentiation through domain knowledge and experience of a specific sector. A good example of this trend appears in the story of Procore Technologies, a leading provider of construction management software established in Carpinteria, California in 2002.
As Jas Saraw, VP Canada, Procore, described it, the origin of the company lay in a building project undertaken by founder and CEO Craig "Tooey" Courtemanche, a San Francisco Bay area technologist. As a boy, Courtemanche had been attracted to construction through work with his father; during a work relocation to Santa Barbara as an adult, he and his partner built a new home, a project that exposed Courtemanche to the need for technology to drive value in building initiatives. The initial problem he tried to solve was the delivery of relevant updates to the contractor – at the time, connecting and sharing information on the job was possible only through a telephone call, which did not provide a text record, or via fax machine, technology that was scarce on the job site. The first version of Procore was built around this collaboration challenge. According to Courtemanche,
The need for Procore came from actual problems I was having as the owner on a construction project to build a new home for my family. Phone calls and fax machines were the default communication modes with my contractor. When I looked at the sheer complexity of coordination, and the lack of streamlined communication, I was shocked that anything ever got done on my own construction project.
So I built a web-based collaboration tool around Microsoft Project schedule for the job. We began to avoid mistakes on the job site just getting everyone on the same page. My construction experience, combined with my knowledge of software development, seemed to be solving a big problem. That's when Procore was born.
I took a year off to study the construction industry A daily job log, two week look-aheads, a system for managing RFIs and a way to share project schedules were the first tools that I built into a new web-based application that I called Procore.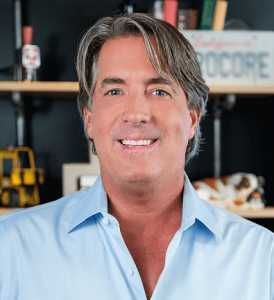 In early days, Courtemanche's time was divided between convincing people of Procore's potential to drive change in the construction industry and working through connectivity issues on behalf of clients. If WiFi on the job site is a luxury today, it was even more scarce in the early years of the decade. According to Saraw, Courtemanche personally took part in hammering up WiFi transmitter devices to bring connectivity to job sites so that customers could leverage Procore technology. Saraw believes Courtemanche's study of the industry, combined with his early experience and opportunity to meet with people on job sites, proved formative. They helped him to understand fundamental needs in the industry and to develop core values that have remained consistent in product development over the past 16 years.
Collaboration issues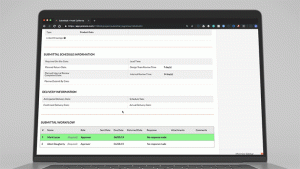 The change that Procore works to support is enhanced collaboration. Better information sharing, for example, can address a key challenge in the industry that Saraw called 'rework'.  In construction management, pricing has traditionally been based on project costing, using a static spreadsheet solution, and a manual, email-based approach to invoicing. When project changes had to be made, lack of automating meant there was no activity trail that would allow the manager to return to source to understand why a change was made, who approved it, and if was it authorized. Without true line of sight into the actual cost of changes on the job site, managing rework is problematic, and solving for cost overruns a huge issue. "One of the greatest sources of friction in construction, is when a worker is on a site, collecting information, and that information is siloed, as there is no easy or convenient way to communicate that back to the back office," Saraw explained. Procore, in contrast, is built as a platform that provides connectivity from the field to the back office.
Adding partner functionality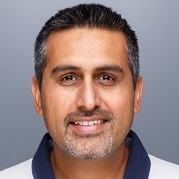 The platform boasts multiple individual modules that easily plug and play to offer various capabilities in areas including preconstruction tenders, project management, financial management, resource management. But Procore is "open" and provides a full developer platform for tailoring the product to more specific requirements. In addition, the company has formed relationships with many integration suppliers who have enabled 130 external plug in solutions drawn from an evolving construction tech ecosystem and made these available through an "App Marketplace." Saraw provided several examples of these additive capabilities. For example, if a client is looking for a good way to streamline the capture and execution of signatures (required in many different instances in construction – ex. signing up a subcontractor, signing a PO), leveraging a partner like DocuSign into the user workflows delivers that capability to clients, while allowing them to operate in a unified Procore data model. Other examples include AR or AI solutions, or even drone technology, which could be used to fly over a site and capture safety data, which is then ingested via APIs back into Procore for presentation to the user. This powerful data would enable automatic triggers for a safety alert – and remediation action.
In addition to additive capabilities, Procore allows for the export of data. This is largely financial information that is integrated into the leading EPR solutions (MS, Oracle, JD Edwards, SAP), as well as construction specific ERP, with the help of an internal Procore ERP integration team. When required, this team helps to develop custom solutions that we can integrate bidirectionally with large backend GL systems. By definition, these large systems are complex, and require custom integrations; however, there are also many mid market ERP systems that Procore can integrate with seamlessly, and quickly. It is possible to build repeatable models around this kind of midmarket combination; Procore works with several partners that have developed their own integrations, which are then marketed back to their customers, further evolving the Procure ecosystem. "There are a couple of ways to skin that cat," Saraw noted, "but ultimately we can drive that collaboration and efficiency back to the back office."
Broad collaboration is also encouraged through Procore's pricing, which is not based on seat, but rather on construction volume. Saraw explained: "As a company's construction volume goes up, their Procore cost goes up, but their relative or effective cost goes down. There is a benefit to scale [from a budgetary perspective]," but more importantly, this pricing model allows the solution to be distributed to consultants, to architects, to owners, general contractors and subcontractors – to everyone on the project team, which could number a thousand. For the builder, the benefit is the combined insight and knowledge derived from this diverse group of stakeholders. "This is how we have thought differently than the industry," Saraw concluded.
Differentiation though platform ease of use  
A cursory web search on construction management solutions produces 373 products. To differentiate Procore in this crowd, Saraw described three classes of competitors. The first is the traditional, on-premise solution that was architected in the 90s and early 2000s. Designed for a back office environment, this type of solution has since been updated to make it more accessible from a mobile perspective – to allow field or front office workers to access data. However, Saraw argued that the interfaces on these remain virtually the same: "These involve asking a site superintendent who is trying to juggle 30 or 40 balls on a very dynamic construction site to then try to think about how to input stuff into a pretty archaic user interface, which is built with the accountants in mind," he explained. A second kind of competitor is the very dynamic, SaaS type of provider. Saraw believes these are very good for the industry, however, they tend to delivery a very niche product: "they solve an issue in the industry, but they do not solve a ton of issues all at once. The builder may need ten solutions to solve ten problems – which has a knock down effect on usage overall." A third class of provider sits in the middle – Saraw described Procore as a robust enterprise application that is really easy to use: "A construction worker can go into it and say, 'this is how I do my job'."
Core value continuum
Focus on ease of use has been a core value for Procore from company inception. In many industries, adoption is dependent on software design that puts the user first. According to Saraw, "in the construction industry, if it is not easy to use, it's just not going to get used." To address this need, in early days Procore established an innovation lab, and invited representatives from the construction industry to comment on solution development: "They would sit down with us, and they would tell us – even to a keystroke or placement of a button – what would make sense from a construction work flow perspective." Over time, the company has continued to draw on its knowledge of the industry as well as practitioner input in an iterative process to evolve platform values and capabilities. At its Groundbreak user conference held this past October, Procore gathered 4,000 construction professionals to network and collaborate on platform usage. At the event, it announced a version of its software that extends the distribution of project management, capital planning and portfolio financial capabilities to building owners, a new integration with Microsoft's Power BI (based on acquisition of a company called Construction BI with predictive, up level analytics and reporting capabilities) in Procore Analytics, as well as Embedded Experience, a new feature that allows users, partners and third-party developers to more easily work with favourite apps inside the Procore platform. The goal of these innovations is to improve data sharing for enhanced collaboration, to add new capabilities that can digitize and improve efficiency in construction workflows, and to add features that enhance user experience – values set in Courtemanche's home building experience at the beginning of the decade.