Dell had a lot to crow about at its fourth annual user conference in Austin, Texas this week. In his opening keynote address at Dell World 2014, chairman and CEO Michael Dell pointed to various research estimates that position the company as the top provider of disk storage systems (based on total terabytes of internal and external storage sold in Q2 2014), as number two vendor in the global x86 server market (number one in the US), as the primary driver of increases in the PC marketplace (with 19.7% growth in y-o-y PC shipments in contrast to 4.3% for the market as a whole) and as the leading provider of IT healthcare services.[1] And with the luxury of its recently-won status as a private entity, Dell was also willing to share some of its own expansion markers: double-digit revenue growth for the software business,and for its channel-related revenue. These growth indicators make the team "very happy," Michael Dell added, serving as they do to validate the company's decision to go private last year, a move that was described at the time as prerequisite to continued broad investment in building Dell capabilities as a full solution provider. "To be in the end to"end solutions business, you have to have both ends," Dell noted, contrasting Dell strategy with oblique references to that of competitors that are currently divesting (IBM servers) or dividing (HP enterprise/PC split) their businesses. "Today, Dell is the world's fastest growing integrated IT company," he added. (more from Dell in the video at the conclusion of this article)
As compelling as these spot checks on quarterly market ranking may be, a more telling view of the sources of the company's success can be found in the type and manner of Dell investment decisions. Dell is investing to become a complete solution provider, but has prioritized certain areas along the way, applying a 'buy, build or partner' approach based on its reading of market potential and a realistic appraisal of current Dell capabilities.
In many of these areas, investment focus clearly predates the privatization anniversary, but subsequent activities have taken on renewed vigour in the last year — culminating in the announcement of new products and services at Dell World. As Bryan Jones, Dell VP of North America and global 500 marketing, explained, for example, genesis of the decision to pursue strategic advantage in security lay in executive response to customer need that was clearly articulated at a European event held eight years ago. Today, security is a key focus area for Dell, built on the acquisition of a number of assets, including SonicWall, SecureWorks, AppAssure, Quest Software and Credent and their integration into what Dell is calling "connected security," a concept that was featured in multiple sessions and in product announcements at last week's event (more on this to come in future InsightaaS commentary). Dell's early decision to focus on security was a good one — celebrity breeches and the corporate damage they inflict has made security top of mind in the media and a key challenge in company discussions. Findings from new Dell's Global Technology Adoption Index, like virtually all surveys on tech drivers and inhibitors over the past decade, has found that security is the biggest concern for SMBs considering the deployment of advanced technologies, identified in this study as cloud, mobility and Big Data.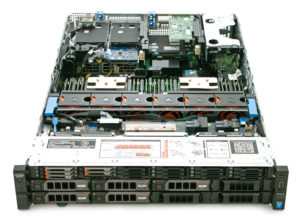 With cloud, Dell has followed an alternate path. The company has engaged in some acquisition activity — purchase of Boomi cloud integration capabilities in 2010 and Enstratius cloud management software in 2013 — and at Dell World, also announced launch of its next generation PowerEdge FX2 architecture, converged infrastructure with servers, storage and networking offered in six modules that tailor to varying customer scale needs (including Dell's new 13th G PowerEdge server portfolio with solutions like the U2 R730xd that provides up to 100 TB storage, 36 cores and 1.5 terabyte of DDR -4 RAM, which Michael Dell noted can support 100,000 one gigabyte Exchange inboxes) that provides up to 100 TB storage and 38 cores) to support what president of enterprise solutions Marius HaaS described as "the broadest range of applications and the highest density on the planet."  According to Ashley Gorakhpurwalla, VP and GM, Dell server solutions, "workload optimization and efficiency is the number one priority" in the PowerEdge FX2 platform, which delivers 130% more processing power per rack than Cisco UCS; 50% more available server-side storage than HP SL2500; and an 8x reduction in networking cables vs. HP ProLiant rack servers. The goal, he explained, is to help customers address disruptions to the data centre such as cloud through a standards-based platform that allows rapid stand-up of a private cloud and bursting to public resources as needed.
The integration and cloud management capabilities that Boomi and Enstratius brought to Dell (now Dell Cloud Manager) have combined with the scale and efficiencies of Dell's new PowerEdge FX portfolio to offer customers the infrastructure building blocks needed to manage their own private or hybrid environments. But rather than construct a Dell-branded cloud offering with the all the moving parts, the company has chosen to work with partners, such as VMware (for EVO: RAIL) and Microsoft (Azure) for the delivery of cloud rack solutions to its customers. And a good part of "Dell cloud' lives in the realm of Dell Services, a business unit that has received increased support as Dell works to develop its solutions orientation, which now accounts for approximately 15 percent of overall revenue, and is seen as a driver of profitability going forward.
The Dell Services' infrastructure and cloud services arm consists of three practices — managed services, consulting and systems integration, and cloud services. As president of the infrastructure and cloud computing line of business, Anand Sankaran explained, during tenure as a public entity, Dell announced its intent to enter the public infrastructure market with services similar to those offered by Amazon, Google or Microsoft: "but when we looked at our value differentiator in the market, we decided it was not about building large data centres or offering IaaS, but rather it was about helping customers who were looking at cloud as a strategic move within the enterprise migrate their workloads from what was typically on-premise set up to a cloud-based solution that could be private on-premise, private hosted or public cloud. So we decided it would be more prudent for us to look at partnership with these companies."
Today, this group offers consulting to develop strategy around change management, integrated application and infrastructure modernization, which entails identification of the best cloud platform — including public — for specific applications, migration and systems integration services, as well as management support, largely through single pane of glass management provided by the SaaS-based Cloud Manager suite of tools. Customers often ask for cloud deployments such as "backup-as-a-service, DR-as-a-service, VDI-as-a-service or HPC-as-a-service," requirements that Sankaran noted are fulfilled through an "extensive partner data centre footprint" in 38 locations around the world which supplements Dell data centre capacity, represented by one facility in the US, one in Slough, UK, one in Germany and one in Australia. Some Dell cloud service offerings are vertically focused — such as the SMB healthcare solution, EMR-as-a-service — which is hosted in partner (or Dell) data centres. In most cases, he added, customers will engage in an initial pilot deployment, after which they may choose to host vertical or application specific workloads through Dell, or on their own cloud infrastructure.
In addition to this cloud brokerage model targeted at larger accounts, Dell also announced its complement at Dell World: a Cloud Marketplace aimed at the small customer segment and the lower end of the midmarket — customers that Sankaran described as willing to buy cloud services directly from the web, who may not need a high level of customization but do need the services Dell is providing in the new offering. According to president of Dell Software, John Swainson, Cloud Marketplace is currently in beta, offering access to the resources of Amazon, Google and Joyent IaaS providers, but is looking ultimately to add thousands of partners. To support secure, reliable infrastructure delivery, Dell has also partnered with Pertino to create a VPN that enables portability between clouds, and with Docker to offer customers containers in a Docker Hub (15 Dell-certified content containers are currently available).
The Cloud Marketplace is essentially a portal which combines curated Dell services, including monitoring and management of cloud assets from a single dashboard, one-click installs of development stacks and applications, and consolidated billing for cloud assets, as well as the ability to manage sub-billing on a departmental basis. According to Don Ferguson, VP and CTO of the software group, the Cloud Marketplace offers the customer three value propositions: choice in access to other public cloud services at competitive rates (as well as the ability to plug in the user's private cloud), "governance without the loss of agility" through cloud control and management, and some "pretested content" that will be expanded on in phase two of the project in easy-to-use document containers. In developing the offering, Ferguson noted that the team placed "maniacal focus on the user experience" to produce intuitive navigation for "people who are not deep in cloud" in order to "democratize" cloud services. Much of this democratization falls from pricing: as Nnamdi Orakwue, VP of strategy & operations for Dell Software, noted, because Dell IaaS purchases are in volume, Dell is able to offer cloud services at a rate that are better than those offered by the partners themselves. As the marketplace begins to scale, Orakwue believes Dell will be able to leverage information on usage gleaned from the portal to negotiate even better pricing that it can pass through to the customer. In addition, Dell offers value through its perception as a "trusted partner" that will vet partner offerings: interestingly, Orakwue pointed to a recent Dell customer study that identified Dell as the third most desirable cloud provider (though it had no formal offering). For the customer who may be doing other business with Dell, purchase of cloud via the web portal may simply represent an extension of the Dell relationship.
A key question that emerges from this outline of Dell cloud strategy and offerings is how to ensure steady sources of new growth going forward, since reliance on complimentary services and service delivery relationships carries with it the potential to leave a lot of the upside in the hands of partners. One response might be that in building services around partner offerings, Dell is able to share in partner success. For Sankaran, the answer can be found in market segmentation: while the Cloud Marketplace will no doubt return high volume, low margin business (5,000-10,000 transactions a day, with 10 percent margins), the enterprise segment will entail long sales cycles, low volumes and high margins, and the midmarket will represent a combination of these two. Capturing "differing volumes, values and margins" for Dell IP (and for partner offerings), Sankaran believes, will deliver the balance needed to support Dell's ongoing good news growth story.
---
[1] Storage and server estimates are from IDC Worldwide Quarterly Tracker reports for Q2, 2014; the healthcare ranking is from Gartner, Inc., Market Share: IT Services, 2013, Kathryn Hale et al, March 31, 2014.