In the great cloud halls, content is king. Unlike the field of dreams, where you build it and they will come, cloud service provider businesses thrive on the content services that drives data to their sites. And in the public cloud scramble to build services that can differentiate in a crowded and increasingly commoditized cloud marketplace, content suppliers offer unique value – a shortcut to addressing end user storage and data management needs.
Over the past month, two important relationships between cloud and content/services providers were announced; interestingly, neither of these involved the juggernaut, but rather Google Cloud, which is looking to break free of its third place ranking among public cloud providers with a more strategic approach to the enterprise customer. The first is a new partnership between Google and VMware that will enable organizations to run workloads based on VMware's software-defined data center technologies (Cloud Foundation) in the Google Cloud Platform (GCP). The new joint hybrid cloud solution, the Google Cloud VMware Solution administered by CloudSimple, builds on integrations developed earlier this year (for VMware's NSX Service Mesh and SD-WAN by VeloCloud, vRealize Automation, and for Google's Anthos, hybrid cloud tool), and works to bolster the market strategy of respective partners. The relationship allows VMware to support its customers with an additional choice in public cloud infrastructure provider (it has existing relationships with AWS and Azure); it also allows Google to offer familiar virtualization/cloud management services, and with this an entrée to the enterprise segment, in which VMware penetration is especially strong.
A second partnership was announced with great fanfare at Enterprise World 2019, OpenText's annual end user conference, held in Toronto this July. As per terms of the new agreement, Google Cloud has selected OpenText as its preferred partner for enterprise information management services, and OpenText has selected Google Cloud as preferred partner for enterprise cloud, an arrangement that will include joint marketing activities aimed at helping enterprise customers move more quickly to cloud. Key elements of the new relationship are based on integrations that will enable the following:
OpenText will leverage Anthos, Google Cloud's multi-cloud and hybrid-cloud offering, to deploy and manage containerized EIM application workloads in a multi-cloud environment. The company has announced general availability of containerized versions of several EIM applications, including Content Server, Extended ECM, Documentum, InfoArchive and Archive Center on GCP.
OpenText will use Google Cloud to enable multi-layered global disaster recovery services for customers with business-critical EIM workloads running in the cloud, on-premises, and in hybrid cloud architectures.
OpenText intends to integrate its products with Google's G Suite of productivity and collaboration tools to enable seamless use of G Suite and EIM activities.
OpenText plans to integrate with key Google AI and ML services to build vertically focused solutions and to add value to existing EIM products.
Commenting on the new relationship in the Enterprise World keynote, OpenText CEO Mark Barrenechea noted, "Cloud is a strategic imperative, and OpenText is committed to supporting our customers at every stage of their cloud journey… Together [with Google], we can help the world's largest enterprises and organizations securely manage their most valuable asset, information." From a market perspective, Google's decision to partner with OpenText on the management of information assets is a sound one. OpenText currently boasts 1 exabyte of data under management, 120,000 customers in 40 countries, of which, 90 percent are Fortune 1000 companies, and 100 million end users. Initially, the partners intend to focus joint marketing activity in specific industries, including financial services, media and entertainment, healthcare and the public sector – areas where OpenText has demonstrated leadership.
But how do benefits line up from the OpenText perspective? The company is committed to cloud delivery – and currently provides a range of managed services for the Business Network, and OT2 (EIM as a Service) via the OpenText Cloud Platform running on the company's own infrastructure. Today, OpenText maintains 30 commercial data centres in global locations as shown below. And the company has committed to supporting customers' private cloud strategy through varying levels of partner integration with the large public cloud providers. But if market reach is a key criterion in the selection of a preferred partner, AWS, which dominates the market in terms of size might represent a more obvious choice (as it was initially for VMware), or Azure, which occupies number two spot in public cloud size rankings.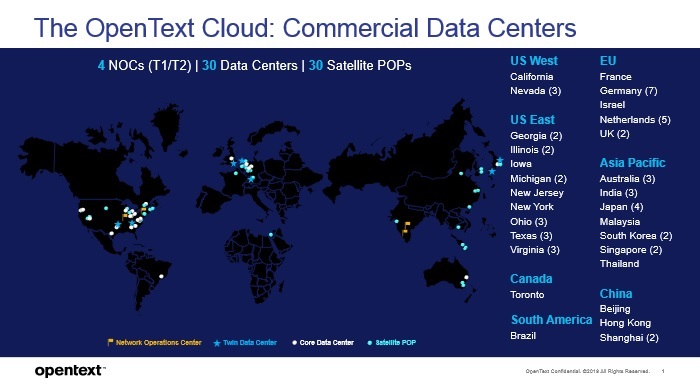 Outlining the partner attributes which attracted OpenText to Google, however, the company focused on other factors that can be more fairly described as complementary capabilities. Savinay Berry, who was named OpenText SVP of cloud service delivery in January 2019, listed three reasons why OpenText opted to align with the Google camp. The Anthos strategy, the Google tool built for enabling managed Kubernetes on premise that now extends to multi-cloud environments, is the first. According to Berry, the deployment and management of containerized EIM application workloads via Anthos, will provide "a single console view, like on the Starship Enterprise" of workload management for requirements such as patch and application update, which will ensure OpenText compliance with customer SLAs across hybrid or multi-cloud environments.
A second reason is the "trusted relationship" with Google, which appears to lie less in OpenText experience with Google, than in the partners' relationships with SAP. Berry explained: "Google has a partnership with SAP. We are SAP's largest partner, and we have a trusted relationship with SAP. So there was a relationship that was already inbuilt, which was important. At the end of the day, technology is about doing business with people, and customer relationships." A third factor that he cited is Google's technical capabilities: "The more we learned about what Google could do – how they owned the entire stack themselves all the way down from the fibre, to bare metal, to the chipset, to Google servers, and to storage – [the more impressed we were]. They have about 750 security engineers, and it was valuable for us to partner with that IP; we brought knowledge of how enterprises work, and they brought in the IP around how to deliver that at scale."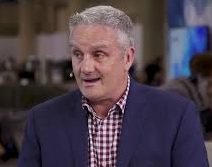 According to Steven Ludlow, VP, product marketing, OpenText, relationships are the key driver of the new relationship: "Google wants to work with us, particularly with GCP in the cloud as they are moving heavily to the enterprise. They look at OpenText as a nice, neutral party that has good enterprise relationships. For example, we have a good relationship with SAP and Google has a good relationship with SAP – if you bring those three together, it's very effective." Muhi Majzoub, OpenText EVP of engineering, also echoed Berry's second point, describing the company's relationship with SAP as a key enabler of the new partnership with Google: "The relationship between Google and SAP, and between us and SAP, made it a little bit easier to bring that triangle together." SAP selection of OpenText as a ready provider of a native SaaS content services, he explained (Q4 delivery of OpenText content services via OT2 platform, through the SAP Cloud Platform and other SAP solutions to address customer need for managing structured data and unstructured content across applications was also announced at Enterprise World), was based on OpenText's open API structure, and on a 12-year relationship. "They selected us," Majzoub explained, "because we already know SAP's code line; our product is now sitting in their product quality process, being tested for vulnerabilities, and this is done on a quarterly basis with all our products. So it's much easier to go with us. And it was clear pretty quickly that we made the right choice with Google because, working with a couple of Google engineers from Google's development centre in Cupertina, it took my team less than a month to deliver the integrations [Google]. So we know we're on the right track."
Relationships may also be a question of avoidance though. Ludlow described the partnership with Google the outcome "partly, of big fish in a small ocean scenario." "If you look at partnering with AWS," he explained, "you would find a lot of big fish swimming around and you may not get as much attention. If you look at Azure, it is part of Microsoft, and Microsoft, particularly in the Sharepoint and the OneDrive worlds, is going to be somewhat competitive. Then Google becomes a very attractive partner."
OpenText maintains that it is committed to customer choice and has certified much of its software on the major public cloud provider platforms; "It's the same thing as saying 'We support Windows NTN, or we support UNIX'," explained Ludlow. With Google, though, the integration is deeper, meaning that from a customer point of view, the fact that OpenText applications are running on Google will be "opaque" to the user. "If a customer just says they want cloud, we will offer the platform as a managed service with service level agreements running out of the OpenText data centres," he added. "At a next level, we will go with Google Cloud – if customer says they want to run it elsewhere, we will also support that customer choice." But in that case, the OpenText professional services team would be contracted in to help the customer run applications on AWS or Azure. Majzoub noted, "with certain choices, you may get more services. Customers have to pick what works best for them."
Ultimately, the preferred partnership is about simplifying the public cloud journey for OpenText customers. According to Berry, the new relationship addresses a key objection that OpenText heard from customers: while happy with OpenText cloud delivery (the company currently delivers its OT2 platform and SaaS-based applications out of OpenText data centres), some organizations may have a distinct public cloud strategy, or a mandate to go to public cloud. In these scenarios, the customer would need to work within three different contracts – one infrastructure contract with a cloud service provider, one contract with an SI such as Accenture or Cognos, and a final contract for the OpenText applications. "That was messy," Berry explained. On the other hand, the joint solution addresses this issue through a single sku, a single contract, a tactical manoeuvre which may also serve the interests of partners as it drives data to the GCP – assuming customers have not, for other reasons, committed to an alternate provider.
Majzoub was quick to point out that partnerships that are evolving at OpenText are not intended to limit choice, rather they serve to provide additional options going forward for both OpenText and its customers. "We will never force a customer to take an on-premise deployment into a cloud, or to go from native managed services to SaaS," he explained, "and we will never dictate a cloud provider. We're not cutting out Azure or AWS – our containerization strategy should give us that flexibility." New partnerships and expansions to existing partnerships can happen at any time, he argued, and OpenText is not ruling out the establishment of new relationships for the future. For the company, cloud acts as a delivery mechanism for OpenText applications and content, which may benefit from multiple roads to market. "We want to be the owner of content services; we are the leaders, we believe in that, we are the leaders in Business Network, and we are building to expand these partnerships. Today it's Google. In the future, I'm sure there will be others." Majzoub concluded – an observation on the evolution of partnerships that will no doubt depend on the speed of customer transition to cloud, and the shape of public cloud marketplace.