The IoTCC and InsightaaS have released a major new report that explores challenge and opportunity in the use of the Internet of Things (IoT) in smart communities. IoValue: intelligence in Community Ecosystems is the first report in a series of best practice papers co-developed by members of the IoTCC, led by Mary Allen of InsightaaS.
The concept of "smart" city or community is not new; in fact, city operators have been using network connectivity and computing for a long time, deploying technology to support digital processes for applications ranging from back office records to property tax billing to the control of water and electricity distribution. But 'intelligent community' is another proposition, and one of the first questions addressed by the report working group is how to describe it and who to include – is intelligent community restricted to municipal government, or are there other groups involved, and what are its physical limits? The IoTCC group used the following diagram to illustrate the collaborative nature of the community.
What is new, however, is the Internet of Things – solutions based on the combination of network connectivity, analytics and supporting ICT, and sensors/actuators deployed on physical objects. For example, IoT could include traffic monitors, vehicle sensors, street light sensors, building controls and many other devices in other verticals – which generate the need for collection, storage and processing of massive amounts of data that can be used by multiple parties for various purposes.
The IoValue: intelligence in Community Ecosystems report has outlined several business objectives for community-based IoT deployments. Taking only the transport/traffic sector as example, the report notes productivity improvements that could be achieved through enhanced traffic flow efficiency, which would reduce congestion and, indirectly, the carbon emissions associated with idling, blockages, etc. Administrative costs could be improved when data from public transportation systems is integrated to enable collaboration between different services and operations. Safety will be improved when self-driving cars are more robust, and shared ownership is more widely adopted. IoT systems could also stimulate the creation of new citizen services based on open data, or increase community support for innovation and entrepreneurial development. All in all, there are many opportunities for the development of IoT value at the community level, as is illustrated for the transportation vertical in the diagram below.
According to the IoTCC group, one of the most important best practices lies in the development of high quality fibre and wireless communications infrastructure. The report notes that "Levels of connectivity, including the technical capacity and distribution of broadband and access network services, can impact both the delivery and consumption of IoT applications, and ultimately determine the success or failure of an IoT venture." Ottawa, Stratford, Kingston, CENGN (the Centre of Excellence in Next Generation Networks), the Southwestern Ontario Integrated Fibre Technology Network and eleven-x offer examples of municipal and extended communities efforts to invest in IoT-ready networks. The difficulties of fully serving the more rural areas of Canada remain to be solved, though organizations such as SWIFT aim at extending good connectivity to smaller communities.
Since many IoT applications will be multi-user and multi-provider, the adoption of common standards is another best practice requirement. According to the working group, standardization is one of the most important means to drive IoT adoption because uncertainty around multiple competing standards introduces complexity and adds material cost. Other best practice discussions in the report focused on funding innovation – though creation of new vehicles including dedicated municipal agencies to stimulate IoT study and activity as in the case of the City of Toronto, or public-private partnerships (P3) that leverage resources and expertise in IoT deployment – on the importance of strategic program direction, and on community engagement to ensure support for "bottoms up" innovation.
Report release: Meetup at Cisco Canada Innovation Centre in Toronto
IoValue: Intelligence in Community Ecosystems was officially released at a meetup held at the  Cisco Toronto Innovation Centre on March 22nd, which was attended by more than 50 IT professionals and Smart City enthusiasts. The meetup location introduced attendees to many of the smart, connected building applications enabled by IoT, as well as excellent views of the Toronto Islands from Cisco office's extensive glass!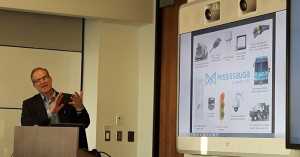 Shawn Slack, the CIO of Canada's sixth largest city, Mississauga, opened the session with a 'spotlight' presentation "Demystifying IoT" describing the city's seven-year digitization journey and its experiences with IoT. Slack pointed to the city's fibre network – the largest publicly-owned deployment in Canada – as a critical foundational element in Mississauga's transformation. At the session, he argued that both citizens and workers in a modern city expect to have superior connectivity everywhere, and typically now assume access to free WiFi. Slack also observed that Mississauga is just at the beginning stages of exploiting the data that can be collected and the applications that can be built using sensor data (LED light sensors, bus communications, an advanced traffic control system and a virtual campus are already in place). Mississauga's work with Cisco and OnX Enterprise Solutions partners, to transform how services are delivered to Mississauga citizens is available here.
Like many communities across the country, the City of Mississauga is participating in the Government of Canada's Smart Cities Challenge with what it is calling "SMRT CTY." The Smart Cities Challenge encourages communities to submit their ideas on how they would improve the lives of residents through innovation, data and connected technology. Submissions are due April 24, 2018 and winning communities will receive up to $50 million in funding to implement their plans.
IoValue panel
Lead author of the IoTCC report Mary Allen moderated a panel of IoT experts in an exploration of design and best practice planning aimed at delivering "IoValue" for community ecosystems. Highlighting many themes in the report, panel experts represented a microcosm of the intelligent community: Chief Strategy Officer and SVP of emerging markets for EllisDon Jody Becker provided private sector perspective from an industry that is itself undergoing massive transformation; chairman and co-founder of the Intelligent Community Forum John Jung spoke from his organization's quarter century experience with connected communities; Brian Donlan, VP public sector sales for Cisco Canada offered input from Cisco's extensive work with communities across the country; and research fellow at Ryerson University Reza Rajabiun delivered research-based commentary on Canadian policy and progress towards creating sufficient and equitable access to the connectivity needed to power IoT.
The panel session was also very well received by the meetup attendees. John Jung, of the ICF, described his organization's role in promoting business and trade through intelligent communities. Rather than focus strictly on technology, ICF includes assessment of the people impact in creating change, as the key to 'intelligent' transformation. The ICF is currently working with 170 cities that are deemed to be smart based on the organization's benchmarking process. Jung offered examples of how streetlight poles can become IoT hubs for new applications, but he also noted that ultimately, we will need artificial intelligence to exploit the power of IoT platforms.
Jody Becker of EllisDon, described her company's leadership in the development of smart buildings. Over the past several years, EllisDon has explored IoT and how modern technologies can affect building design. For EllisDon, the initial impetus to move towards the development of smart infrastructure was created through P3 project work on government buildings. RBC WaterPark Place, the home of Cisco's Innovation Centre (and meetup location) is a more recent example of deployment in the private sector. Commenting on the needs of the building industry, Becker suggested that building specifications need to be more flexible to circumvent the lengthy planning time now needed for P3 construction. Becker's comments overall underscored the trend towards technology and applications playing a much larger role in building planning and construction, and highlighted the leading role of EllisDon in this shift. Becker's anecdote about "building an app for Apple" to ensure privacy in its connected physical space was a wry reflection on the transformation that is now underway in the construction sector.
Brian Donlan, of Cisco Systems Canada, suggested that an important advantage of IoT is that it can prepare a community for future growth. He also identified WiFi as "the new oxygen" – or the basis for many social improvements. He described the Toronto Library System, with its more than 100 branches, as an example of an organization that has applied advanced thinking in its use of technology. He also pointed to Halton Hospital, a P3 development, as another example of how to deliver outcomes that were not previously feasible (placing sensors in the beds of elderly patients, for example, to monitor their health, and track asset usage). Donlan also described the Port of Hamburg, which is using IoT to improve the efficiency of port operations and reduce congestion, as a source of additional value as it serves as the region's economic engine.
To relate the discussion to Canadian reality, Reza Rajabiun, an expert in competition policy and telecom strategy, pointed out that a "digital divide" continues to exist – not everyone in Canada has access to the high-quality infrastructure needed for IoT. Even in Toronto, there are still areas that have poor network service, as is also true in many of rural areas of the country. Fibre to the home (FTTH) has low (7 percent) penetration in Canada, he explained, and the service provider community shows little incentive to expand fibre services. Rajabiun did state, however, that emerging IoT applications could incentivize network investments, and those applications requiring high bandwidth, in particular. Another option that he outlined is hybrid networking that uses fibre to the curb and wireless to the building. Ultimately, he argued, many communities will want to know how networks are being used and what are the limits on local usage, so Rajabiun is working with other academics on a project to deliver objective monitoring of network needs and activities.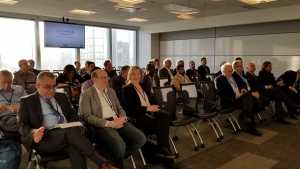 In summary, the meetup was an excellent forum that served both to re-confirm the findings of the report and to re-enforce the importance of IoT and intelligent applications for communities of all kinds.
Sponsors and working group
The creation of IoTCC reports is underwritten by the community's corporate and individual sponsors. Corporate sponsors include CenturyLink, Cisco, Cogeco Peer 1, CloudOps, Information Builders, Ingram Micro, Avaya, Schneider Electric, Dimensional Strategies Inc., ThinkOn, TA Networks, TIG and TwelveDot.
InsightaaS and the IoTCC would like to recognize the working group members whose insights and opinions are the source of Intelligence in Community Ecosystems exception depth and quality:
Reza Rajabiun, Ryerson University;
Paul Gragtmans, Display5;
John Jung, Intelligent Community Forum;
Naeem Khan, City of Stratford;
Bill Munson, University of Waterloo;
Campbell Patterson, CP Communications;
Don Sheppard, ConCon Management Services;
The report also benefits from expert contributions from:
Jennifer Sicilia, RYCOM;
Kelly Daize, Invest Ottawa;
Prasanna Gunasekera, City of Brampton;
Ritesh Kotek, Durham Regional Police Service;
Dana Saltern, BusinessOne;
Roman Zubarev, 29signals;
Ted Longley, ORION
InsightaaS thanks each of these thought leaders for their contributions to IoValue: Intelligence in Community Ecosystems.
Obtaining access to the report
Like all reports produced by TCBC and its sister communities (the IoT Coalition Canada, Canadian Analytics Business Coalition, and Vision2Value: the Economics of Data), IoValue: Intelligence in Community Ecosystems is available to all interested professionals. Each of the working group sponsors and members listed above is encouraged to distribute the report to their peer and contact networks. The report is also available from InsightaaS: please follow this link.