There are many laptops and convertibles on the market, and they're all variations on a theme. These days, that theme includes skinny and light – think of the MacBook Pro, and the Lenovo ThinkPad X1 Carbon, and Samsung's new 1.9 lb Notebook 9. Vendors seem to compete more on form than function, with the result that some of today's laptops are almost works of art. Dell has its rose gold XPS 13, for example, and HP has its Spectre.
Into this world of shiny and beautiful comes a small black rectangle that is something truly different. The Lenovo Yoga Book, available with Windows 10 ($749 CDN) or Android ($649 CDN), is a strange little hybrid with some interesting twists.
Physically, the device measures 10.1″ x 0.38″ x 6.72″, and tips the scales at about a pound and a half. Its 10.1 inch touch display has a resolution of 1920 x 1200 – full HD. The processor is an Intel Atom, maximum memory is 4 GB, and maximum storage is 64 GB, although the microSD slot accommodates an additional 128 GB. The Android version runs Android 6.0 (Marshmallow), and comes in black, grey, or gold. The Windows 10 version only comes in basic black, with Lenovo's 360 degree watchband hinge in silver.
We got the Windows 10 version to try out.
So, you're thinking, this sounds like a netbook. At first blush it does, until you open it up (or rather, pry it open – its magnetic closure is enthusiastic). Then – huh? There's a screen on one side, and a blank metal panel on the other, or so it seems. Where's the keyboard?
Turn the machine on, and all will become clear. That blank panel (Lenovo has dubbed it the Create Pad) will light up with the image of a standard QWERTY keyboard, complete with the outline of a touchpad and its buttons. Lenovo calls it the Halo keyboard. Touch a "key" and you get sound and vibration (aka haptic feedback) to let you know the keystroke registered. It feels really weird at first – we're used to feeling key travel when we type – but it does work. The keys are spaced as they would be on a proper keyboard, so when you aim your fingers where the key should be, it's usually there. Just don't settle your fingers on the home keys, as your high school typing teacher dictated – that will activate the keys and give you a screen full of gibberish.
The touchpad is equally disconcerting. Navigation is pretty standard, but the "buttons" are simply outlines on the palmrest. I found that, when mousing about, sometimes context menus popped up for no reason. In fact, the whole panel tended to be overly sensitive, so if I picked up the device and hit one of the pseudo keys, or my hand brushed the active area, the device would respond.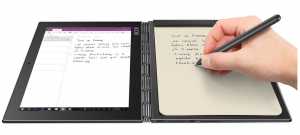 But that's not all the Yoga Book can do. At the top of the Create Pad, there's an icon representing a circled pencil. Touch that and the keyboard disappears. Instead, the pen is activated. But like everything else on this device, it's not just an ordinary pen. It's the "Real Pen", which comes with an installed stylus tip, plus several ink tips. That's right – the pen can be a pen. When you write or draw on the Create Pad with the stylus, which acts as a Wacom-like digitizer, the scribbles are reflected on the Yoga Book's screen, in whatever ink-enabled program that's open. The pen detects 2048 levels of pressure, allowing it to be used for artwork as well as writing. I quickly discovered that the desktop version of Microsoft OneNote allowed me to translate my scribbles into text (more or less – but that's not the device's fault, that's my terrible handwriting). Lenovo also has a downloadable Windows program called WriteIt that handles ink nicely within many apps.
Better yet, swap in one of the ink tips (you put the current tip through a hole in the pen's cap, tilt the cap, and pull – tricky the first time, but relatively simple thereafter), place the included magnetic pad of paper on the panel, and when you write or draw on it, your scribbles are also digitized.
The pad is just a convenience – its sheets are exactly the right size for the Create Pad. You can also write on any old scrap of paper, as long as it's sitting on the Create Pad, or even in a notebook placed on the pad, and it'll digitize the inputs.
The pen can be a challenge, however. The Yoga Book is too skinny to offer a holster for it, so it needs to reside in a pocket or purse. The additional pen tips (it comes with three; extras cost $19.99 for three) also need a home. The super-skinniness also means that even the provided pad won't fit inside when the device is closed, leaving you juggling multiple bits and pieces.
As the name implies, the Yoga Book, like any Lenovo Yoga, folds into several configurations. It can sit like a laptop, fold over into a tent if you want to view videos or show presentations, or you can turn the device into a tablet.
With its Dolby audio and full HD screen, the Yoga Book is a surprisingly good video viewer. The Atom processor may not be good for high-demand computing, but it does just fine playing movies, and I was pleasantly surprised at the sound quality.
Lenovo claims up to 13 hours of battery life for general usage. I got about 8 hours of steady video playback in my rundown test.
The Yoga Book, despite running full Windows 10, will not replace a laptop. Its configuration is too basic to handle anything requiring much power. But it is a nice little machine for simple tasks that don't need much power or storage, like note-taking, sketching, Web surfing, video conferencing (its front camera is a modest 2 MP, the rear 8 MP) or watching movies. The battery-free pen works well, and the keyboard, while funky, is usable once you're accustomed to it. I especially enjoy the ability to digitize handwritten notes as they're written, then convert them to text.
And, you can't understate the novelty factor.