In today's fast-paced technology environment, it's not always easy for a large-scale enterprise to fast track an innovation agenda. While there are new ideas and technology advancements aplenty, a growing number of organizations are taking selected projects outside the confines of the organization to nurture in an innovation lab model.
When Craig Haney was with Canadian Tire in 2012, the retail giant became the first organization to establish an Innovation Lab within the Communitech ecosystem. Since that time, Haney has joined Communitech as its director of Corporate Innovation.
"In 2012, Canadian Tire saw an opportunity to tap into the technology ecosystem," Haney explained. "We had figured out three things: it's all about technology – whether you build it yourself or partner with startups. The second thing was finding ways to attract and hire the right talent. Thirdly, it was about how to inject the startup DNA into the corporate culture." And a fourth learning was that these issues could be addressed through a discrete innovation lab.
Today Communitech boasts 17 innovation "outposts" that occupy space in the main hub and in the data hub, run by companies such as Canadian Tire, TD Bank, LCBO, Manulife, GM, Deloitte, Fairventures and Thomson Reuters. "We work with twice as many that don't have external labs but want to tap into our ecosystem," Haney said. "Not all companies have a lab to do this."
An innovation or growth mindset depends on creation of a culture that will allow large organizations to think differently, to engage with startups and give them the right tools to build their business, Haney explained. "It's really about speed. Changes in technology and disruption to legacy industries are happening so fast that large organizations can't respond to them quickly enough. Building external teams within a tech ecosystem gives them the opportunity to see the future."
An outpost provides a sense of freedom from conventional means of doing business, he added. "Companies are not encumbered by their history and processes. By having a bit of a moat between them and head office, they can explore and think differently using a different set of rules and organizational structure."
This incubation model has proven highly successful in developing prototypes and concepts. Yet another, complementary model has been evolving in more recent months in organizations pursuing next stage development, Haney explained. This appears in the form of accelerators designed to take prototypes to the next level working independently within the organization's infrastructure.
"Building early stage prototypes only takes you to a certain level. Building a bridge between what you've done in the past and what you are thinking today and seeing if it makes sense is difficult," Haney explained. "Innovation is a multiple stage process that has to take into account branding, governance and scalability before it can be introduced into the real world. R&D can be so far from real life, businesses often miss the commercialization piece."
TD Bank has been running an Innovation Lab for three years in the Communitech hub. They now have a team doing the acceleration work at the TD 55 Technology Centre in Kitchener, Ontario.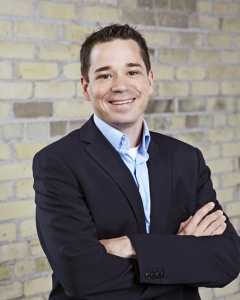 "It's really on us to help progress those ideas," said Aaron Stuart, product management leader and director of TD Lab. "High potential ideas and concepts need additional viability before they can be introduced to market." (TD also has a lab partnership with Cisco in Toronto that focuses on applications relating to IoT and customer contact centre support.)
As he explained, an incubator is designed to test the feasibility of things. "We run a lean team of 12 that includes business analysts, software engineers, and solution designers, and we work with business partners in various areas within TD, such as insurance or credit cards – all with a lens on the customer experience. The incubator is about insight."
The advantage of this approach is the ability to explore Big Data, artificial intelligence and machine learning or other areas where they may not necessarily have deep expertise. "In a lab with a broad mandate we can test things quickly and inform the bank."
At this stage, TD also connects with startups who may be interested in engaging with them on further product development. "They think about specific things, like biometrics, that represent different ways customers can access banking information. We, in turn, give them feedback."
If an idea shows promise, TD will build a partner strategy and move to the acceleration phase. "As interesting as it is to build things, our responsibility is to validate them as well," Stuart said. "That's when conversations with startups become more involved. We go from the 'ready to chat' to the business partner stage as we get one step closer to commercialization. Startups learn how to work and talk with a bank; we get to explore interesting technology and tools and make informed decisions."
A more formal engagement with partners, the acceleration phase involves examination of a number of factors during development, including regulatory considerations and compliance. At this point, they may run trials with customers to get feedback and measure outcomes. "It is not yet commercial, but readily available for customers to try so we can keep getting better and optimizing a solution. However, we always have to be careful about the solutions we put in front of customers," Stuart said.
Once a solution arrives at a point where it can scale and be hosted and maintained within the bank, the team is one meeting room away from internal teams that can take it to full production and commercialization. "It's a hybrid model where each team understands each other's world," Stuart explained.
He said the accelerator lab was not part of the grand plan when they opened their incubator lab three years ago. "Over the course of the first year and a half, we proved that the incubation model worked. We just needed feasibility around the concepts and prototypes, so started wondering how we could leverage what we had done in an expedient way. It's amazing how it works because it really gives great ideas a chance to develop. And only amazing things have come out of this."