Today, every global professional shares the challenge of a summer that is constrained by limited opportunities for engagement: travel, business and professional development, meetings and conferences are either cancelled or deferred until a future date.
But ours is a collaborative industry; we are used to acquiring, sharing and applying knowledge that we gain from each other. How can we bridge the gap until "business as usual" (BAU) returns?
The 'bridge' will consist of many different actions – and we are determined to work with you to help ensure that this time of virtual collaboration includes real professional development!
Using the approach that has helped dozens of Canadian thought leaders to share their insights with peers and colleagues, and which has informed hundreds of decision makers in all corners of the IT industry, InsightaaS is embarking on an initiative that creates opportunities for IT professionals to demonstrate and share expertise in key areas. "A Summer of Webinars" has two essential elements:
Research calls that provide an opportunity to contribute to co-created documents detailing made-in-Canada best practices. As a participant, you discuss management considerations and approaches with fellow thought leaders, and are recognized as experts in your field, with credit on the cover of InsightaaS's industry-leading reports and an ability to enhance your professional profile.
Webinars – 'virtual meetups' – give the thousands of professionals who are connected with InsightaaS – directly as subscribers, or through our major Meetup groups (CIA-Plus: the business of Cloud, IoT and Analytics, Transformative Technologies in Canada, V2V: The Economics of Data and DC Foresight) – a chance to explore current research on key topics. Registrants gain access to a webinar featuring an overview presentation and panel discussion (which includes research contributors), and are provided with a complimentary copy of the research report.
We are actively working with the community to organize topics that will contribute to professional development today, and contribute to business success in the months and years to come.
The "Summer of Webinars" meets a critical need: it gives IT industry managers and practitioners opportunities to increase their knowledge and engage with peers, and provides a virtual parallel to the InsightaaS research launches, meetups and events that engage thousands of Canadian IT professionals.
Subscribe to Summer of Webinars
Our goal is to host 1-2 webinars per month, each based on the co-created best practice that InsightaaS is known for. We will work with clients to define topics that are important to industry and professional growth; facilitate teleconference-based research meetings to develop content; write the content and circulate it for professional review; and recruit attendees to the teleconference.
What topics will be covered?
We are actively working with the community to organize topics that will contribute to professional development today, and contribute to business success in the months and years to come. Our first two topics are set – and more are imminent. Please check back often!
April 28th, 1:00 Eastern (Virtual Meetup): Where Automation Meets SDDC 

(sponsored by Intel)

Data Center operators are challenged to optimize performance, minimize downtime, and protect the network against a wide range of potential security and reliability threats. This is complicated because both on-prem or hybrid models lack comprehensive tools and consistent standards, making it difficult to understand how best to drive ROI, security, and manageability.A Data Centre management toolkit needs to be built on one of two primary data / control plains (in-band or out-of-band). The decision on which one is best suited to an organization's needs has to do with existing infrastructure, suppliers, and the efforts of standards consortia align with organizational direction. What are the unique benefits of in-band and out-of-band solutions? What are the operational objectives that would motivate an organization to select one over the other, and what best practices can be used to optimize deployment and benefits?

Early May (Virtual Meetup): When Your Hybrid Cloud Network is Secondary to Your Cloud First Strategy 

(sponsored by Technology Integration Group)

What is/will be the impact of the hybrid cloud network on application performance? What technologies and practices need to be implemented to support end users and they applications & data they rely on? What should organizations focus on today, to ensure that they have applied forward-looking planning and design principles that help mitigate potential performance issues which might otherwise be challenging to isolate and resolve?
WIIFCOMs? (What's in it for community members?)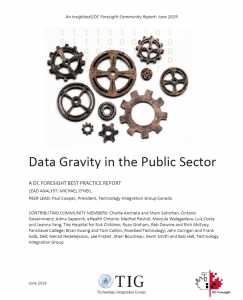 InsightaaS research community members are invited to contribute to Canadian thought leadership – and to be recognized as thought leaders – on topics that are important to their positions and careers. As a member, you are invited to meetups – physical gatherings in months past, and Virtual Meetups (webinars) for the foreseeable future – to gain insight into leading-edge topics. And you are sent copies of the research documents that result from the process, providing them with a shareable resource that they can use to influence decisions within their organizations.
Join the community!
Do you want to be 'in the loop'? We'd be delighted to keep you up to date! Please feel free to join one of the Meetup groups linked above, or to subscribe to InsightaaS to get the latest on our research, industry coverage and events – and of course, the Summer of Webinars!
Please stay safe and healthy. We look forward to 'seeing' you soon!