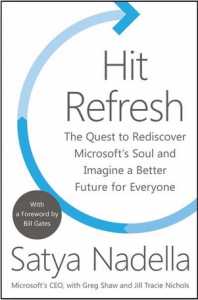 Satya Nadella's 2018 letter to shareholders and a recent Forbes article describing how Microsoft "blends IoT and edge computing with AI to change the game of cricket" show how Nadella is bringing Hit Refresh to life. Nadella's book captures his own life journey, transitioning from a young cricket enthusiast in India to a position as the third CEO of Microsoft and the architect of company's re-discovery process. The cricket theme is used to illustrate Nadella's idea that employees should be "using Microsoft as a platform" to pursue their passions (cricket is certainly very high on his list of passions).
Nadella covers lot of territory for one book; each of the three major topics could be a book on its own. The first part describes how Nadella got to current state – it's a story of his personal and professional growth in India and of the complications around moving to the USA, marrying someone from India and starting a family. The second part expands on what "hitting refresh" really means for Microsoft. The basic thesis is that a change in culture, mindset and management is necessary – building new products or playing catch-up to competitors is not good enough. The third part of the book looks to the future, covering industry partnerships, strategic technologies and how future IT can help humanity. In particular, the last chapter discusses the responsibility of CEOs to work towards restoring economic growth for everyone in the Fourth Industrial Revolution.
Nadella grew up in India, developed a love for the game of cricket, graduated as an electrical engineer and eventually moved to the United States to study computer science. He landed at Microsoft in 1992 and rose quickly through the ranks. It appears he was often in the right place at the right time, involved during the period of high Internet growth and more recent widespread adoption of cloud computing. Appointed as Microsoft's third CEO in 2014, Nadella followed in the well-known footsteps of Bill Gates and Steve Ballmer. Although he claims his destiny was not pre-planned or orchestrated, his progression is interesting nonetheless, and certainly reinforces the notion that you are a product of your history. The book sometimes gives the impression that his accomplishments were relatively easy.
As Bill Gates, cofounder of Microsoft, stated in the book's foreword, Nadella gained his experience developing and managing Microsoft's server software, search engine systems and cloud computing services. In his new role as architect and lead on "hitting refresh," Nadella has benefitted from twenty years of experience as a Microsoft insider and from his deep understanding of software product development. No doubt the levelling off of PC (and Windows) sales at around the same time of Nadella's elevation was a motivator for out-of-the-box systems leadership!
One message from the book is that, much like the early 90s, we are on the cusp of another period of accelerated technology innovation. Microsoft cannot rely on its past successes to carry it into the next decade. Nadella strikes a good balance between telegraphing his vision to employees, describing Microsoft's future technologies for customers and providing a biography for general readers. Those with a background in IT and some knowledge of Microsoft will find the book especially interesting. Future executives will appreciate clearly identified approaches such as the three leadership principles – clarity, energy and driving success. The book is not overly technical, but it is well-written and easy to follow. It weaves together Nadella's personal influencers (health challenges with his son, for example), his leadership philosophies and his industry perspective. Nadella states that "this is a book about transformation – one that is taking place today inside me and inside our company, driven by a sense of empathy and a desire to empower others." He continues by saying "it's about how people, organizations and societies can and must transform – hit refresh – in their persistent quest for new energy, new ideas, relevance, and renewal."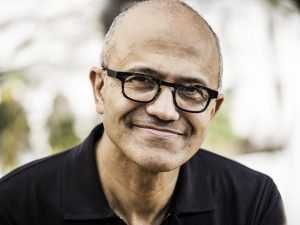 Empathy and culture are key ingredients of successful leadership, according to Nadella, and much of his own story is also marked by his expanding empathy. Questions he feels Microsoft had to resolve include: What is the soul of Microsoft? Why do we exist? What makes Microsoft unique? Nadella says the C in CEO stands for culture, it is his primary role to be the curator of organizational culture, and that the key to changing culture is individual empowerment.
When Bill Gates and Paul Allen started Microsoft in the 1970s, the goal was to put a computer on every desk and in every home, a mission which Nadella views as essentially completed. Hitting refresh means adopting a new mission, this time based on mobility and cloud computing. Nadella's mission for Microsoft is to empower every person on the planet using all of today's emerging technologies, not just the PC. Changing the culture allows employees to adopt a "growth mindset" which is the way to "live the mission."
Nadella also highlights three important technology shifts: mixed reality (i.e., building the ultimate computing experience), artificial intelligence (which will power every experience) and quantum computing which will provide the computational power for very large, complex problems. He believes these technologies will, over time, coalesce and become the basis for moving beyond cloud computing. Nadella claims that Microsoft will invest in new technologies and new markets when there is an exciting concept; they have the capabilities necessary to succeed; and their culture welcomes the new ideas and approaches. While this longer-term view is fine, a description of more on near-term developments such next generation cloud systems and mobility would be equally interesting to most readers.
The last chapter correctly points out that CEOs in large enterprises have a responsibility to help shape the world and promote a better future for everyone. Nadella is highly optimistic for the future, despite the current circumstances, and expects that emerging technologies, if done right, will move the world (and Microsoft) forward by leaps and bounds. In holding this view, he appears to be doing what many other executives do not, which is looking beyond the next quarter's results.
It is hard to guess who the book was primarily written for – Microsoft employees, customers, other executives or the general public – but there is something of interest for everyone. Those who can remember data processing in the late 1980s and early 90s, however, will relate more easily to Nadella's story and to Microsoft's need for re-invention. Still, it's not easy to identify with Nadella's thinking on leadership since very few of us have been in a similar position. How successful the "hitting refresh" strategy will be is still largely an open question since it remains a work in progress, but Microsoft's results in 2018 look promising.
The following quote sums up the book: "In the face of global economic and technological uncertainty, we [Microsoft] reset our mission, reprioritized our culture, and build or rebuilt strategic partnerships in order to solidify the foundation of our business. We also needed to hasten our innovative spirit and place new, bold bets." This book is recommended not only for those who aspire to be executives but also for anyone interested in following the next generation of Microsoft as it embraces its new mission and executes its transformation plans.