The first day of Biden's Leaders Summit on Climate fell on Earth Day, April 22nd, 2021. The speaker list included 28 heads of state from countries that collectively represent a majority of the world's emissions, population, and GDP and other global leaders. The Summit revealed a marked change in the positioning of the US on climate issues after four years of relative hostility to multi-lateral cooperation and climate diplomacy in particular. Biden's ambitious announcements yesterday showed new vigour on a range of climate issues, and included reducing domestic emissions 52 percent by 2030 compared to 2005, doubling annual public climate finance and development by 2024, such as contributing US1.2 billion dollars to the Green Climate Fund, tripling public financing for climate adaptation by 2024, and committing to net zero emissions in the portfolio of the Development Finance Corporation by 2040.
Other government representatives came armed with announcements of their own, which ranged substantially in their likely impact. Despite tensions with China and Russia, both President Xi Jinping and President Vladimir Putin spoke to the importance of collaboration on climate issues, though neither set new or concrete targets. Disappointingly, Canada's Prime Minister Trudeau committed to a 40 percent reduction in national emissions by 2030 compared to 2005 levels, a less ambitious target than those set by the US, the UK [announced in terms of 2035], the EU, Japan, New Zealand, Argentina, Philippines, Colombia, and Jamaica.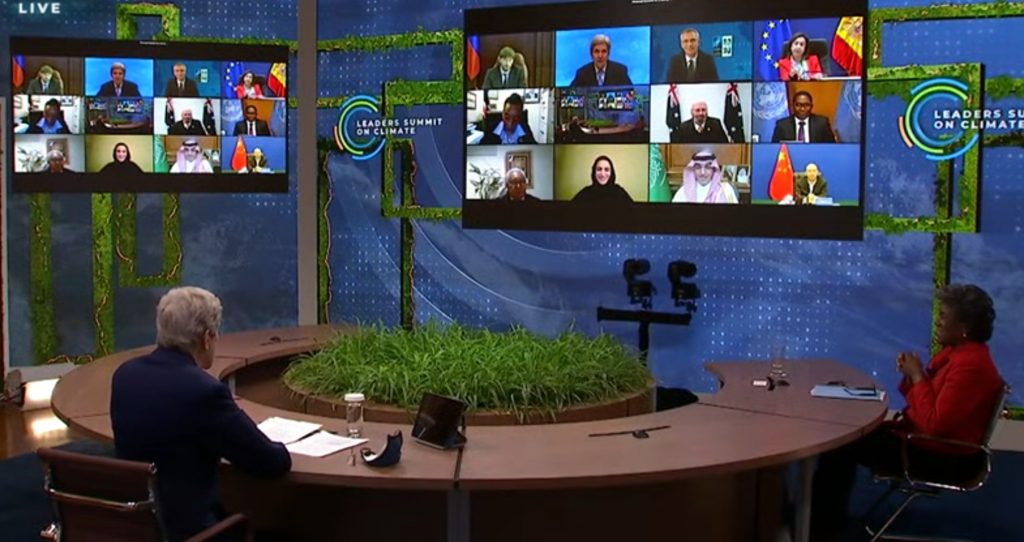 Some speakers were much bolder in their ambitions. The President of the European Commission committed to expanding the sectors covered by EU emissions trading to include transport and buildings, and the Prime Minister of New Zealand, Jacinda Ardern committed to pricing agricultural carbon, a world's first. Many speakers in both plenary sessions called for mandatory financial disclosures of climate risks in investments and an end to fossil fuel subsidies in general terms, but Prime Minister Ardern showed that New Zealand leads the pack on both topics. She reminded the panel that New Zealand mandated climate-related financial disclosures in 2020 and suggested that the World Trade Organization conference in November should produce a ministerial statement on fossil fuel subsidy reform, the only concrete or multilateral suggestion presented on the topic throughout the day.
One of the most surprising commitments was made by the President Charles Michel of the European Council, who announced a plan to create a carbon border adjustment mechanism. This policy aims to circumvent carbon leakage – the production of goods in regions with weaker environmental rules for sale in regions with strong regulations – by taxing products produced in weakly legislated nations. This policy proved less than popular at the Summit, as even before it was announced President Joko Widodo of Indonesia spoke against trade barriers, and Kristalina Georgieva, managing director of the IMF, said that the border adjustments had the potential to create economic inefficiency. She proposed a carbon price floor of $75 to be adopted by the G20. Of the two proposals addressing leakage, border carbon adjustment may be more easily negotiated, as the price floor would likely be unpopular among poorer nations in the G20, which could face competition from those countries that are just outside of "the club" and therefore unregulated by the price floor.
In addition to being the subject of one of the breakout sessions, nature-based solutions featured prominently in comments by most of the government, private sector, and indigenous speakers. Many countries and companies highlighted tree planting campaigns [including arid nations such as Saudi Arabia and Iraq], emphasizing their potential for carbon storage, environmental preservation, economic development, and the promotion of human security. Many nations pointed to the proportion of their coastal Exclusive Economic Zones that had been designated as Marine Protected Areas. In an exciting development, President Erdogan of Turkey proposed creating protected areas in open seas, and the Chilean president Sebastián Piñera provided a more specific proposal for Marine Protected Areas around Antarctica and the Nazca Ridge. Existing international marine laws do not establish procedures for nations or groups of nations to regulate marine industries outside of their Exclusive Economic Zones, so even if policies were drafted and agreed upon, the zones could face legal issues as well as existing challenges to implementation of Marine Protected Areas in coastal zones. However, given the immense biological productivity and diversity of the seas around the Nazca ridge and Antarctica, the broader crisis of global overfishing, and the enormous potential of MPAs as blue carbon sinks, such initiatives could provide tremendous environmental benefits.
Preserving terrestrial ecosystems was a hot button issue, foreshadowing discussions at the upcoming COP 26 conference. Article 6 of the Paris Accord, which addresses international climate finance, including international payments for ecosystems services and environmental preservation, is an area where negotiations have repeatedly stalled. Setting the terms for payments for ecosystem services will be a key challenge for the COP 26 presidency. Developing nation and indigenous representatives highlighted their existing and expanding environmental and forest conservation work, and many, including Argentina, Antigua and Barbuda, Colombia, the Democratic Republic of the Congo, Gabon, Indonesia, and Jamaica, proposed variations on debt for conservation swaps. The details of these proposals were scant in the short presentations, but several countries mentioned specifically allocating funds from debt payments to adaptation activities, and to enforcement of deforestation laws.
The Democratic Republic of the Congo was particularly explicit, saying that existing prices for forest carbon were currently 45 times too low to finance conservation activities, necessitating other external finance or the strengthening of forest carbon markets. Historically, developed countries have been loath to provide finance for forest conservation, arguing that the investments do not come with sufficient guarantees of long-term impacts (what is protected today could be cut tomorrow), and that the negotiations constitute a form of environmental blackmail (poor nations are essentially threatening to release carbon if financial concessions are not met). Success of projects by the Green Climate Fund and other international finance bodies, as well as pressure from developing countries, means that the subject will certainly be on the agenda at COP 26, and proposed debt swaps will help wealthy countries find the prospect more palatable.
In a political sense, Biden's Summit is unquestionably a success – speakers heaped praise on the administration for its leadership in advancing negotiations, strengthened the climate discourse favoured by the US on finance, adaptation and nature-based solutions, and raised the profile of the US' proposed climate activity. But for all the commitments and new solutions presented, the Summit demonstrated the very lack of climate ambition in the international climate sphere that it seeks to correct. As President von der Leyen said, "We are getting dangerously close to 1.5 degrees of global warming," and only time will tell if the solutions that seem radical today, in the context of almost 30 years of climate negotiations, truly set a course to preserve a livable climate.
Key takeaways:
US President Biden and Vice President Harris convened this Summit to push for stronger climate action, and to re-establish a climate leadership role for the US following the inaction of the previous administration.
Participants included heads of state (G20 countries including Canada, Russia, China, Brazil, Germany, as well as developing and island nations), UN representatives (the Secretary General), religious leaders, Biden administration officials (Secretaries of State and the Treasury), leaders from international financial institutions (IMF, GCF, World Bank), CEOs of private sector financial institutions, Indigenous leaders, local politicians, and youth climate activists.
Many participants strengthened climate commitments and announced new climate funding. Others committed to knowledge sharing, and highlighted successful or upcoming projects, or demanded greater climate ambition.
The majority of commitments were to cut greenhouse gas emissions by 50% by 2030 compared to a baseline of 2005.
Canada's new commitment was a 40-45 percent reduction in greenhouse gas emissions by 2030.